We help you make the right investment in the coffee production sector :
Providing advice based on hard facts : not on unfounded theories, unproven assertions or hearsay.
Building on the latest research.
Selecting the research findings that are useful and relevant to your specific objectives.
Your compass to enter the world of coffee science
RD2 Vision is your entry point and compass for your R&D projects related to the production sector. It can be your outsourced reliable and cost effective R&D partner.
The world of coffee research is a vast one: a lot of research areas and scientific domains (Genetics, Genomics, Physiology, Agronomy, Entomology, Phytopathology, Chemistry, Sensorial sciences, Socio-economics…), a lot of research teams in a lot of countries, a lot of literature to be looked at…
However, you often have simple and straightforward questions to improve your business and you just want the most efficient way to get an answer and/or to take action.
Filling the gap between coffee science and the coffee sector
Coffee science is producing knowledge and solutions. However, this knowledge and these solutions are not always connected to the reality or to all the realities in the ground.
The Coffee Community is one of the most concerned about helping each other, collaborations, support to farmers…and actions are taken on the ground to improve the coffee value chain, starting with farmers. However, these actions are sometimes not taking full advantage of existing scientific knowledge.
Aware of this situation, Dr Christophe Montagnon founded RD2 Vision to fill the gap between science and the coffee sector.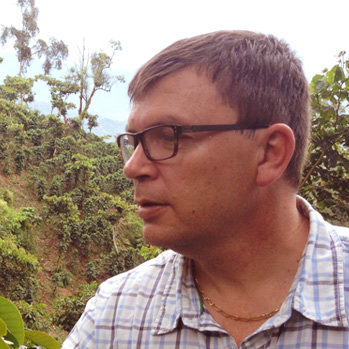 Who is Dr. Christophe Montagnon ?
Christophe Montagnon started working as a coffee geneticist in Côte d'Ivoire in 1989. Since then, he never left coffee science. He was leading the coffee research in Cirad and then created in 2012 RD2 Vision. Christophe also served as Chief Scientific Officer of World Coffee Research in 2018 and 2019. Christophe has authored and co-authored numerous scientific publications (see a list of the main publication here).
Christophe is providing advice and recommendations based on hard facts : never on unfounded theories, unproven assertions or hearsay. He has learned with experience to select research findings that are useful and relevant to each specific RD objectives.
Our values
Respect and humility are the core values of RD2 Vision.
Each recommendation of RD2 Vision is in line with sustainability in general and well being of farmers in particular, paying a great attention to gender. RD2 Vision is adhering to the principles of Regenerative Agriculture.